Enchanted forest on Domplatz square
Fairy-tales with handcrafted figures enchant both visitors and locals in Erfurt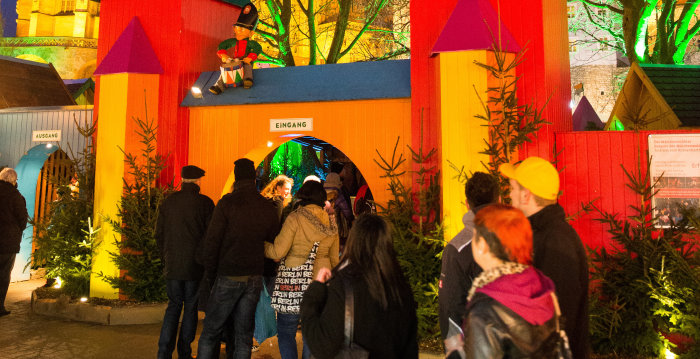 The enchanted forest was created in 1958 and features unmistakeable characters crafted by Erfurt artists Hannelore Reichenbach and Kurt Buchspieß. To begin with, the display comprised fairytale creatures such as root men and dwarves in a big forest of fir trees. From 1961 onwards, entire fairytale scenes have been depicted in the forest.
These handcrafted fairytale figures, in their lovingly designed arrangements, have been a permanent feature at the Christmas market ever since (aside from two breaks in 1990 and 1991), and every Erfurt generation since 1961 has grown up with these unmistakeable fairytale figures.
Like the Christmas market, the enchanted forest has undergone several changes since 1991 – not only in terms of its location (it was temporarily set up between Fischmarkt square and Wenigemarkt square) but in terms of the figures themselves, who have seen several new additions over the years.
In 1999 the enchanted forest returned to Domplatz square, not to its original spot by the main Christmas tree but to a new location at the bottom of the cathedral steps.
Enchanted forest opening times
The enchanted forest is open to visitors at the following times:
22 November – 22 December 2022:
Sun – Wed: 10 am – 8 pm
Thu: 10 am – 9 pm
Fri – Sat: 10 am – 10 pm
23 December 2022: closed
24 – 26 December 2022: 8 am – 8 pm
Story time
Storyteller Andreas vom Rothenbarth welcomes children of all ages for fairytale readings in the enchanted forest. The Christmas market story times are as follows:
Sat/Sun: 1:30 – 3:30 pm
Tue/Wed: 10 – 11 am
Even when the storyteller isn't present, one gets to enjoy the fairytales. These are available in the form of fairytale books directly at the fairytale houses, inviting you to read. Drop by and let yourself be enchanted.
Again this year, it is planned to have a fairytale matinee in the organic children's bakery on Cathedral Square (Domplatz) on December 26 at 11:00 am.