Yuletide joy in other Erfurt sights
Christmas corners all over Erfurt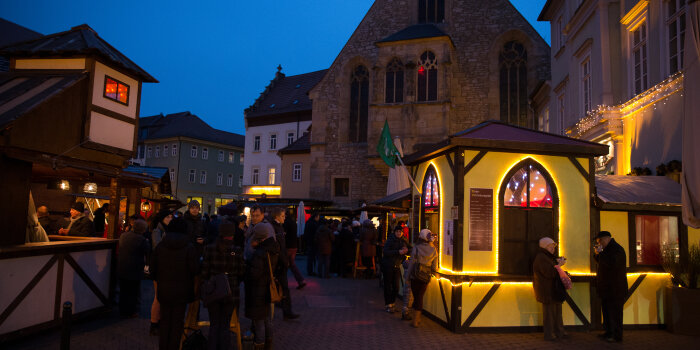 It's not only the Christmas market on Domplatz square and the smaller offerings on the Anger, Schlösserbrücke bridge and Fischmarkt square that give Erfurt its festive charm. A sense of yuletide joy fills the air in other corners of the city too. Erfurt's countless narrow lanes, for example, are wonderfully atmospheric at Christmas time.
Wenigemarkt
Wenigemarkt is a small market to the east of the Merchants' Bridge.
Cathedral garden
At the foot of the towering St. Mary's Cathedral and Church of St. Severus you'll find a small Christmas market, just a few steps away from the main Christmas market on Domplatz square. It has all the festive favourites on offer, such as glühwein, roasted almonds and Thuringian bratwurst.
Fairtrade Christmas market
Fairtrade Christmas market with talks and prayers in and around the monastery ruins, organised by Romana Warnk from Naturkost Erfurt, Benjamin Graber from the Welt(t)raum charity and Frank Mittelstädt from Custom Green together with the Barfüsser Church initiative and Fairtrade Town Erfurt.
The remains of the former Franciscan monastery church, which was largely destroyed in 1944, are a magnificent example of German mendicant order architecture.