Attractions – The Experience Christmas Market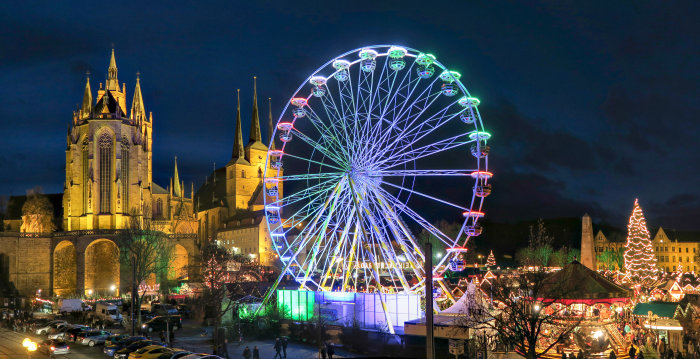 Erfurt Christmas market features a varied programme of entertainment that has something for all ages. In the centre of Domplatz square is the beautifully decorated Christmas tree, standing approximately 20 metres tall. Close by you'll find the Nativity scene with 14 almost life-sized wooden figures. The fantastic exhibition at egapark (down the hill from the cathedral) provides creative inspiration for festive floral displays and decorations. Another must-see is the twelve-metre-tall Christmas pyramid in traditional Erzgebirge design.
There's so much for little ones to see and do. The ever-popular carousel and Ferris wheel guarantee smiles all round. On the four Sundays leading up to Christmas, children from a number of kindergartens gather on the Cathedral Steps and light their homemade candles on the advent crown. For a number of years now, fairytale scenes created by local artists Hannelore Reichenbach and Kurt Buchspiess have enjoyed pride of place in the enchanted forest on Domplatz square. Inside the forest, kids can let their imaginations run wild. And the festive aromas from the children's eco-bakery are bound to get the little ones even more excited for Christmas.
The attractions in detail