Christmas stroll through medieval Erfurt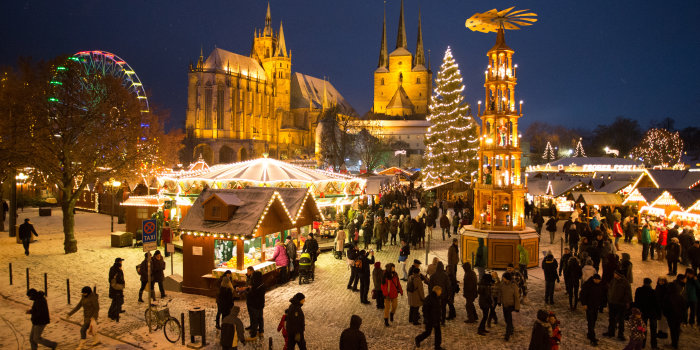 People arriving by train can reach the city centre from Willy-Brandt-Platz square by following Bahnhofstraße to the Anger, where there is a small Christmas market with various stalls and a children's carousel. Besides being a major shopping street, the Anger is also a great place for a stroll. From here you continue down Schlösserstraße to Schlösserbrücke bridge, a sight in itself and well worth another stop. The Schlösserbrücke is one of Erfurt's oldest crossings over the Gera. With this little river at your feet, you can stop at leisure and browse the Christmas stalls that line the bridge.
A little further along is Fischmarkt, a city square that is as beautiful as it is significant. It is the site of the town hall, which is the main seat of the city council and a fine example of neo-Gothic architecture. Inside, ornate murals tell of the history and legends surrounding Erfurt and the region as a whole. Fischmarkt square is also home to the Römer, a statue that the locals have affectionately named Roland. At Christmas time the square's lavishly decorated market stalls create a wonderfully festive atmosphere with their enticing aromas. From here you can make a quick detour to the nearby tourist information office that also offers a ticket sales service.
The route from here to the main market on Domplatz square is lined by many other shops and stalls, so you can take your time browsing for Christmas present ideas.
More information