Erfurt Christmas market on Domplatz square
Fun attractions and fascinating sights on Domplatz square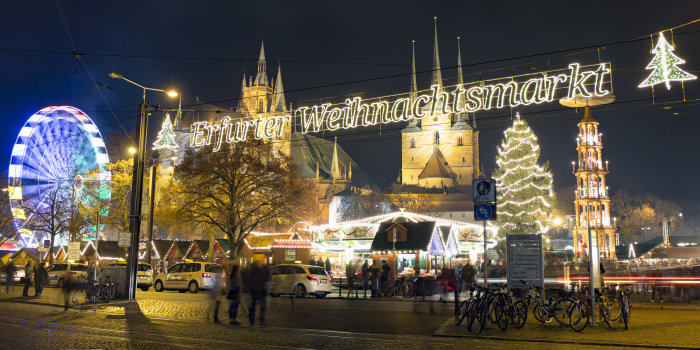 Erfurt's Christmas market is centred on Domplatz. The square's towering St. Mary's Cathedral and Church of St. Severus provide the perfect romantic backdrop for all the festive fun. This ensemble of religious architecture is a veritable masterpiece of the German Gothic style. Of particular note is the Gloriosa, the world's largest free-swinging medieval bell, which was cast in 1497. This cathedral bell measures 2.5 metres to the top of the crown, has a diameter of 2.57 metres and weighs 11.45 tonnes. The Church of St. Severus opposite is one of the few five-aisle Gothic hall churches in Germany.
Fun attractions and fascinating sights await visitors to Erfurt Christmas market on Domplatz square. The market also presents an extensive array of stalls selling traditional handmade crafts, delicious treats and exquisite Christmas decorations. When dusk envelops Domplatz square and a sprinkling of snow covers the cathedral, the Christmas market takes on a whole new charm.
Erfurt Christmas market kicks off with a special opening event, which takes place from 4:15 pm on 26 November on the Cathedral Steps and the nearby stage.
The attractions in detail