Willy-Brandt-Platz square – station square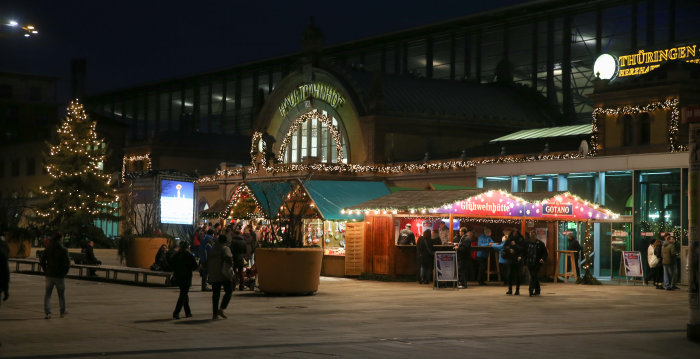 Many visitors to Erfurt take advantage of the city's convenient train connections. On arriving at the main station, they are greeted by a place steeped in history, Willy-Brandt-Platz. This square – locally known as Bahnhofsvorplatz (station square) – gives a first taste of festive Erfurt to those arriving by train. Willy-Brandt-Platz owes its name to the first summit meeting between Federal Chancellor Willy Brandt of West Germany and Minister President Willi Stoph of East Germany, which took place in 1970.
The image of Willy Brandt appearing at the window of the former Erfurter Hof hotel to a cheering crowd came to symbolise the dawn of his new policy to harmonise relations in a divided Germany. So you can start the festivities straight away with a mug of hot glühwein in historical surroundings. There's also a big LED display showing the different areas involved in Erfurt's Christmas programme, enabling you to plan your perfect route through the festive old quarter.