Christmas tour on the "Katerexpress"
Romantic tour of the city centre on a historical tram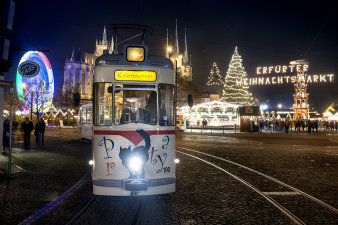 Twinkling lights in the narrow lanes, the aroma of almonds and chestnuts roasting away at Erfurt Christmas market – you can enjoy it all from the comfort of the historical tram as you sip glühwein and nibble Christmas biscuits on a romantic tour of the city centre. Sit back and soak up the festive hubbub and rejoice at the sight of the year's first snowflakes.
Dates
27.11. – 30.11., 04. – 07.12., 11. – 14.12. and 18. – 21.12.2019 at 4/5/6/7 pm
Departure: from the "Stadtrundfahrt" bus stop on the southern side of Domplatz square
Tour length: approx. 45 minutes
Price: EUR 14 in advance booking, EUR 15 on the day (buy on board); per person incl. 1 glass "Glühwein" and Christmas biscuits
Tickets
EVAG travel centre on Anger
Opening times:
Monday to Friday 8:30 am – 7 pm
Saturday 9:30 am – 3 pm
Erfurt Tourist Information on Benediktsplatz square
Opening times:
Mon – Sat 10 am - 6 pm
Sun and holiday 10 am – 3 pm
Unsold tickets, where available, can be purchased on the tram before departure.
Information
These are not traditional sightseeing tours that are accompanied by a guide. They are themed tours designed to create a memorable experience. The Katerexpress is a historical tram with 31 seats arranged around tables for two, three or four for a sociable ride. Due to the restrictions this puts on space in the interior, the tram cannot accommodate wheelchairs, pushchairs or bicycles.
Because of the historical nature of the tram, the operator cannot offer any replacement vehicles. If the tram is unavailable owing to essential repair works, the operator is entitled to cancel. Please check for any changes to the Katerexpress service 24 hours before your scheduled tour by visiting www.evag-erfurt.de or the EVAG travel centre. If your tour is cancelled, you will be refunded the ticket price.
Information hotline: +49 361 19449