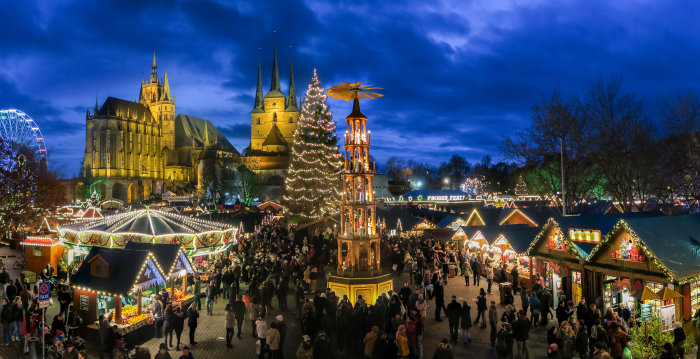 The city centre is adorned with decorations and twinkling lights, filling the streets with a warm glow while the festive displays of shops and department stores add to the Christmas cheer. The main shopping street and the little boutiques and galleries on the Merchants' Bridge (Krämerbrücke) are all beautifully illuminated, making it hard to resist the temptation to shop. On Sunday 9 December the stores in central Erfurt will open for special Christmas trading hours from 12 noon to 6 pm. And between shopping for presents, you can stop at the festive food stalls that are dotted everywhere and sample the delicious specialities on offer.
Take a stroll through the historical old quarter with its beautifully preserved half-timbered houses. Stop a while at the little boutiques or the many Christmas market huts and browse the exquisite range of products in search of the perfect gift. With a bit of luck you might even bump into Father Christmas on his rounds through central Erfurt.
You can reach the heart of the Christmas market on Domplatz square on various routes passing through the smaller markets, side streets and squares – accompanied every step of the way by the sound of festive song and the aroma of glühwein and gingerbread.
Walking routes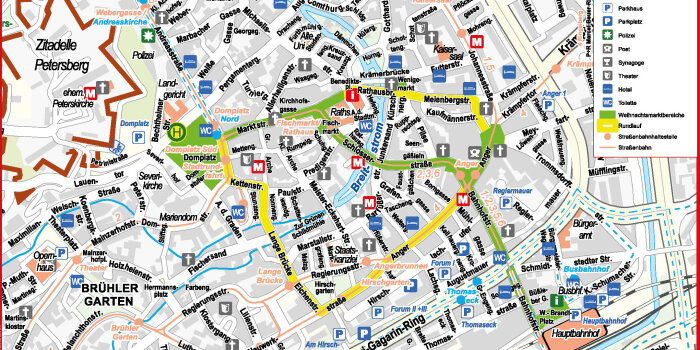 We recommend the following walking routes:
1. Christmas market route
Willy-Brandt-Platz square – Anger – Schlösserbrücke bridge – Fischmarkt square – Domplatz square
2. Erfurt shopping streets
Anger – Hirschgarten park – Lange Brücke bridge – Domplatz square
3. Historical Erfurt
Anger – Merchants' Church (Kaufmannskirche) – Wenigemarkt square – Merchants' Bridge – Benediktsplatz square (Erfurt tourist information office) – Fischmarkt square – Domplatz square